Anava Hospital: For quality health care & education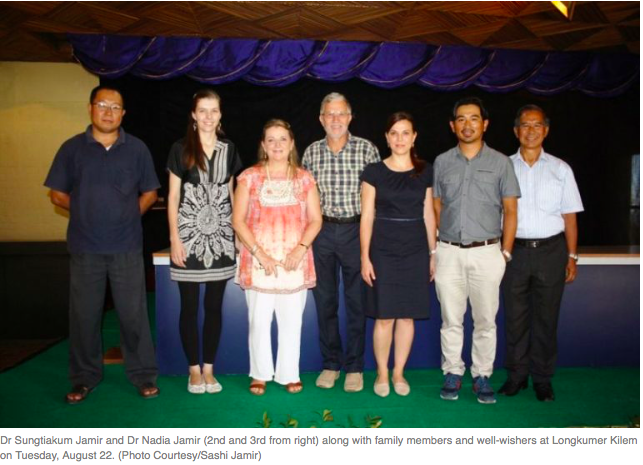 A modern medical facility is in the offing in Mokokchung district at Settsü village, some ten kilometers away from Mokokchung town, which will tentatively be functional from 2019.
The medical facility, to be called as Anava Hospital, is being initiated by Anava Welfare Society which is a non-profit organization registered with the Government of Nagaland and is the sister-society of Anava Foundation, Switzerland which is "a non-profit organization based in Switzerland bringing healthcare services to needy areas". The Anava Welfare Society was founded with the vision 'to Provide and promote affordable quality health care and education in rural areas,' since the planned Hospital is intended to be a non-profit institution.
Formally introducing the initiative to the citizens of Mokokchung (and also to the people of Nagaland) two members of the Anava Welfare Society, Dr Sungtiakum Jamir and Dr Nadia Jamir (both professional medical practitioners) today presented a power-point to an audience comprising of civil society leaders, church leaders and others at Infinity Hall, Longkumer Kilem here today.
Dr Nadia Jamir, whose specialization is in Gynaecology and Obstetrics, said that her husband (Dr Sungtiakum Jamir) having worked in various mission hospitals in India had the desire to serve those in regions where medical facilities were scarce. She narrated that while working in Andhra Pradesh, they realised there was a much greater medical need in Nagaland. Incidentally, 'while visiting Mokokchung we were approached by different people requesting us to come and set up a medical facility,' said Dr Nadia.
She also said that they chose Settsü village because the Settsü-villagers wholeheartedly welcomed the idea of setting up the hospital and offered to sell land for the project. Besides, Settsü village is also situated in a strategic location and approachable for several districts and villages.
Dr Sungtiakum also disclosed that the planned hospital will initially be 20-40 bedded, with Operation Theaters, Recovery room, multispecialty OPD (Ob/Gyn, Surgery, Medicine, Pediatrics), delivery room, x-ray and pharmacy.
He said that 'depending on availability and commitment of local Specialist doctors we plan to establish an Eye clinic' and upgrade the institution from a 'secondary to a tertiary care unit'.
He further said that the ground works for the hospital has already started, with the architectural design of the building completed, the earth cutting, bore-well and electrification already being done in a fast pace. The hospital will be inaugurated, 'hopefully' in 2019.
All this venture, Dr Sungtiakum Jamir said can be achieved through 'Prayer, trusting in God, making our plans known to others, crowd-funding programs, making use of locally available resources, research on cost-effective construction techniques and encouraging volunteers to invest time and resources'.
Therefore, the husband-wife Doctors solicited the active support and contributions from the community so that the dreams of Anava Welfare Society and Anava Foundation, Switzerland towards the healthcare sector in Nagaland can be achieved.
Source: http://morungexpress.com/