University Hospitals Applies Homegrown Discharge Planning Workflow Solution to Opioid Prescribing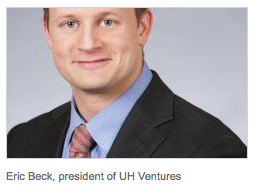 Seeks to commercialize logistics platform powering UH Care Continues
Cleveland-based University Hospitals is
taking advantage of an internally developed technology platform to re-imagine the discharge process, including identifying patients at risk for opioid misuse and dependence.
Ohio has been described as "ground zero" for the opioid epidemic. According to the Ohio Department of Health, drug-related deaths eclipsed auto accidents as the state's top cause of injury deaths in 2007 and that trend has continued ever since. Earlier this year the UH Care Continues discharge planning process was awarded $200,000 from the Ohio Opioid Technology Challenge for its technology solution to help health professionals in the fight against the opioid epidemic.
In an interview with Healthcare Informatics, Eric Beck, D.O., M.P.H., an emergency medicine physician and president of UH Ventures, the business innovation arm of the UH system, explained the genesis of UH Care Continues and the health system's intention to commercialize the solution.
"We began a journey earlier this year to re-imagine our care transitions process — how we get patients out of the hospital and thinking intentionally about where they go and what happens to them afterwards," Beck said. "We were developing new roles, new processes, and new technology. One of our core tools is a logistics platform."
Applying the platform systemwide to opioid prescribing, Beck said 18-hospital UH sought to put a reflective pause in the process to try to limit controlled substances, particularly opioids, to only the patients who really need them. There was a fair amount of inertia and "muscle memory" in terms of prescribing opioids for certain conditions, he added. In some cases, they are being prescribed as needed or prophylactically. "To the extent we can stem some of that, contain it, or add a little bit of conditionality, that was the opportunity we saw."
The technology solution surveils patients as they are leaving the hospital, and as it identifies a patient with an opioid prescription, the pause asks if it is really necessary. Is the patient still having pain? Is it uncontrolled? To the extent that the answer is not an obvious yes, Beck said, are there alternative therapies available? "Or perhaps the patient only needs a couple of pills for an urgent issue and then they can call us for more active management of their pain."
The platform manages both work flows and resources. "To the extent that the patient is leaving the hospital on opioids or may benefit from alternative resources, such as acupuncture or massage, how do we bring those resources to bear at the point of service?" Beck asked. "Part of the effort is trying to contain inappropriate prescriptions, but also marrying that with a set of alternative resources that the patient can be navigated to, based upon their needs and clinical condition."
Besides triggering workflow and optionality around alternatives, the reflective pause also deploys an algorithm to risk-stratify whether the person is at high risk of becoming dependent.
"To the extent they need the opioid, let's risk-stratify them," Beck said, "and put them into a surveillance workflow and make sure that any excess opioids are disposed of properly. To the extent they don't need it, let's navigate them to something else."
How will UH assess whether the platform is having a beneficial impact? By measuring follow-on behavior related to all opioid prescriptions, Beck explained. "Following them into post-acute space, did they take the opioid? Was it disposed of? When we look at patients offered alternatives, did they use those and was their pain controlled? We are engaging with resources within UH and the community to track the utilization of those services that we are navigating patients to."
Although the opioid module meets a pressing need, Beck stressed that UH Care Continues has many other potential use cases, including driving care coordination between all the various actors in the hospital: the therapists, social workers, medical teams and nurses, as well as the off-site administrative support for getting patients out of the hospital and setting up resources, whether they are going to a facility or back home. "It also enables new choices like hospital at home – alternatives to hospitalization or getting patients home more quickly," Beck said. "We think we have a winner here because it has a broader value proposition than just the opioid work flow. The opioid module is just one element that can be deployed. We are moving down the path of our commercialization milestones, and we will want to bring it to market."
In fact, Beck said, UH Ventures has a queue of things it is looking to bring to market, some spun out as new companies. "We are the innovation and commercialization engine for the system," he said. "We are engaged with our digital health accelerator here in Cleveland and are working with early stage companies to provide them usability and validation support."
By: David Raths
Source: https://www.healthcare-informatics.com/article/innovation/university-hospitals-applies-homegrown-discharge-planning-workflow-solution