Midwife who ignored pregnant woman's request for pain relief in labour could be prosecuted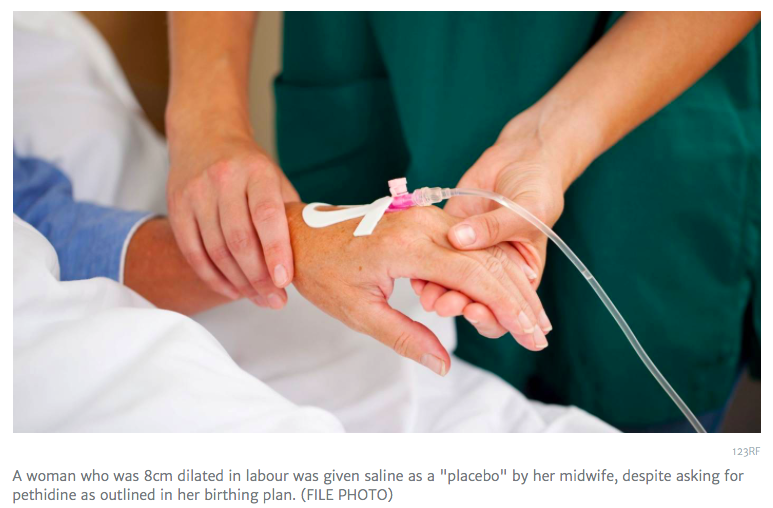 A midwife who gave a pregnant woman in labour saline
instead of pain relief may face legal action for her "disgraceful" behaviour.
In a decision released on Monday, Health and Disability Commissioner (HDC) Anthony Hill found the midwife breached the patients' code of rights by giving the woman the salt water placebo, rather than pethidine as requested.
Hill told RNZ the code was law in New Zealand and said the midwife had been referred to the Director of Proceedings who could decide to prosecute.
"The director will consider whether to take, effectively, litigation in the Health Practitioners Disciplinary Tribunal and if that is to occur, it is likely that there will be further conditions imposed should the tribunal uphold a breach of the practitioners standard of practice in this case," he said.
Hill told RNZ disciplinary charges were "absolutely" a possibility.
During her pregnancy in 2017, the woman and the midwife discussed pain relief and agreed Mrs B would receive gas (nitrous oxide and oxygen) and pethidine in labour if required.
But during labour, Mrs B became "distressed" and was suffering back pain thought to be caused by the baby's skull pressing on her pelvis. She then asked for pethidine as the gas was making her feel sick.
Ms B was given four 10ml syringes of saline – three in half doses – over 2.5 hours, at 12.55pm and was told it was pethidine.
But, when an obstetrician later confirmed the baby's skull was indeed pressing on the woman's pelvis, Ms B was eventually given a real dose of pethidine at 1.15pm.
The woman gave birth to a baby boy with the assistance of ventouse (vacuum) delivery.
After Ms B left the hospital, the midwife told her she had not given her pethidine to ensure "the safety of the baby".
The midwife, who was not named, told the HDC she "felt it was in the best interests of the baby not to give pethidine" given the woman's stage of labour.
She said she gave Ms B saline "leading her to believe" it was pethidine to give her "a sense of support and help in a difficult time".
"I knew it would do no harm, and that pethidine could still be administered at any stage going forward, if required," the decision stated.
The midwife, who has been registered for 23 years, accepted she "messed up" and was "deeply regretful" of the situation.
In his decision, Hill said her conduct was "disgraceful".
By not providing her client with the medication she requested and agreed to receive, the midwife ignored the "fundamental importance" of consent, he said in the decision.
"It was the woman's right to make an informed choice about the pain relief she was to receive, and not to be given IV normal saline when she had not consented to this," Hill said.
"Misleading" her client by administering saline and telling her it was pethidine was "not only dishonest, but also showed a concerning degree of paternalism".
Hill recommended the midwife undergo further training regarding the Code of Rights, informed consent and communication with clients.
He also recommended she provide Ms B with a written apology.
By: Hannah Martin
Source: https://www.stuff.co.nz/national/health/113368510/midwife-ignores-pregnant-womans-request-for-pain-relief-in-labour